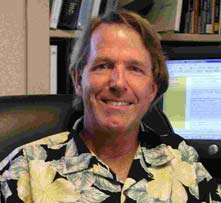 David Dwelle - Founder DesignQ
DesignQ's pedigree dates back to the late 1960's when David Dwelle was an architectural student at Cal Poly in San Luis Obispo. David was a musician throughout school and member of numerous high school bands, but was always fascinated with acoustics and speaker design and built his first speaker system in his dorm room.
The biggest disappointment of those early years belonged to his parents when Dave quit college in 1969, moved to Fresno, California and opened a stereo store. In the early years the stock room was also the bedroom but the business grew rapidly and Dave bought a house with a garage with enough room for a lab and woodshop to begin building speaker systems. Eventually, Sun Stereo opened more than 14 stores throughout northern California and David established DWD Loudspeakers, eventually finding recognition to an international audience for speaker innovation and engineering.
David sold Sun Stereo and DWD Loudspeakers in the late 1970's and worked for a time at Beacon Oil Company, founded by his grandfather in the early 20th Century. His interest in energy solutions developed into a partnership with his brothers and the formation of
Nella Oil Company
and from there to
Pacific Power Management
, a solar energy integration business that has been growing rapidly since 2000. The formation of DesignQ brings David full circle to his first love in speaker design and what follows is the culmination of a lifetime of achievements. We're confident you'll find DesignQ speaker products as compelling to listen to as they were to develop. Enjoy!